Bon, je sais... Ca doit faire au moins 2 ans qu'on en entend parler mais bon, je sens que ca s'en vient lol

Il est en pré-commande à 369us rtr, ce qui est plutôt honnête comme prix... En espérant qu'il sera a la hauteur le l'attente lol...

Les specs:
Officially licensed and ready to take on any terrain!
The 1/10, electric Venture Toyota FJ Cruiser Sandstorm Beige 4WD RTR combines spectacular scale crawling with superior realism! A steel C-channel chassis provides the perfect foundation, while the 35T crawler spec motor and transmission are front-mounted-just like on a full-size truck. Other details include a functional roof rack and 1.9″ Rockthorn tires mounted on beadlock-style multi-spoke wheels.
-Factory-assembled and painted, with full-time 4WD.
-Functional roof rack with side mirrors.
-TF-40 2.4GHz radio system with waterproof receiver and water-resistant SS-20WR steering servo.
-Waterproof SC-3sWP2 Crawler Edition ESC.
-Aluminum coil-over oil shocks with adjustable, threaded bodies.
-Shock towers with multiple mounting options.
-3-link front and triangulated 3-link rear suspension.
-BTA (Behind The Axle) steering linkage for improved approach/departure angles.
-Panhard bar for scale looks and optimized geometry with zero bump steer.
-Zero Ackermann high-steer knuckle design for improved obstacle clearance and tighter turning radius.
-Adjustable side sliders help overcome tough obstacles.
-Durable all-metal gear drivetrain.
-Front-mount motor and transmission position for ultimate scale realism.
-Locked differentials for superb off-road climbing traction.
-Rear bumper with swing-away spare tire mount and D-ring shackles.
-12 mm hex hubs, compatible with all crawler wheels.
-Full set of ball bearings.
-Includes NiMH battery, charger and 4 "AA" batteries.
-Chassis-mounted servo steering set-up.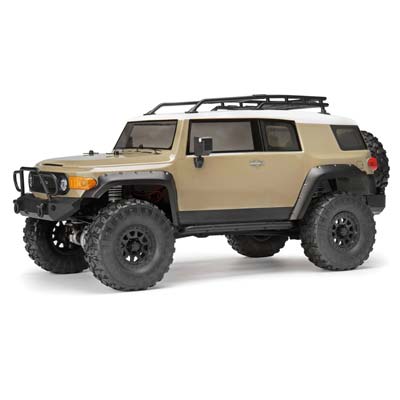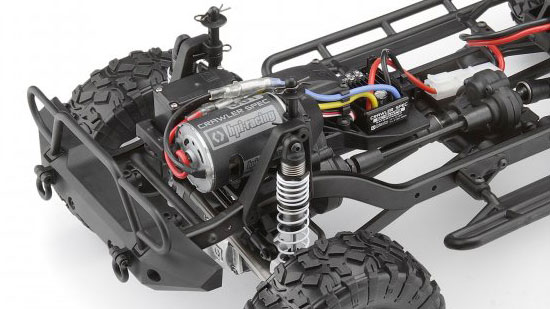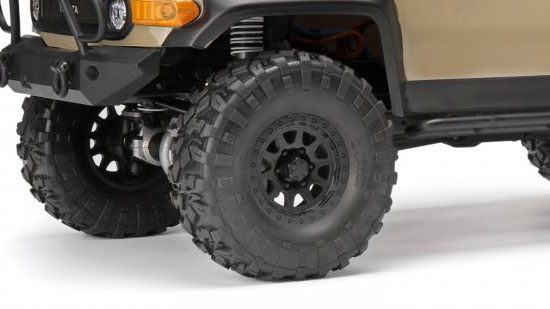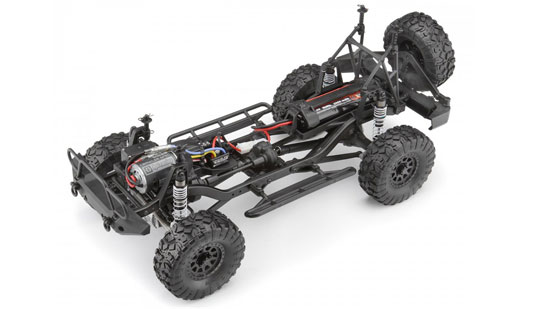 Dernière édition par noname le Mar 2 Mai 2017 - 22:28, édité 1 fois
_________________

http://store.rc4wd.com/
http://www.rc4wdforum.com/forum.php
*RC4WD Bully 2 Hulksta Riddler Pro comp crawler
*RC4WD Gelande 1/18 rtr
*RC4WD TF2 Marlin Crawler
*RC4WD Beast II 6x6 rtr
*RC4WD Warhound custom
Gmade R1 kit 4ws - TFL Bronco - Axial scx10 truggy - 2x ECX Barrage - Traxxas trx4 Tactical
https://www.youtube.com/c/EtienneNoname0383
----------------------------
as far as my wife goes, it only cost $200 to build a scaler and $400 for a comp crawler
Plus en détails:

FEATURES
Chassis: Steel C-channel chassis rails and cross braces, adjustable
side sliders
Drive: Four wheel with central transfer case, telescoping driveshafts
and solid axles with metal diff covers
Differentials: Full-time locked, aluminum pumpkin size cover for best
ground clearance
Transfer Case: Straightens and lowers center drive shafts for
efficient power transfer, prevents motor stall for best climbing
action
Motor: Front mounted 35 turn crawler spec
ESC: HPI waterproof SC-3sWP2 Crawler Edition
Battery Box:
Radio: HPI TF-40 2.4GHz 3-channel system with waterproof receiver,
and HPI water-resistant SS-20WR steering servo
Body: Trimmed and painted officially licensed Toyota FJ Cruiser with
functional roof rack, mirrors, front bumper with brush guard,
light mounts and D-ring shackles, rear bumper with swing away
spare tire mount and D-ring shackles, adjustable body mounts for
any style off-road body, full braced rear mounts
Shocks: Oil-filled, aluminum body, dual stage springs
Shock Towers: Composite plastic
Steering: BTA (Behind the Axle) linkage for improved approach and
departure angles, CMS (Chassis Mounted Servo) realistic setup
Zero Ackermann high steer knuckle design for better clearance and
tighter turning radius, Ackermann refers to the effect of the inner
front wheel turning faster that the outer front wheel during turns
Suspension: 3-link front and triangulated 3-link rear suspension,
aluminum panhard mounts
Wheels: CR-10 beadlock style multi-spoke 1.9"
12mm hexes
Tires: 1.9" Rockthorn 38mm soft S-Compound tires with chunky tread
blocks, 4.3 x 1.5" (109 x 38mm)
Battery: NiMH
Battery Charger:
Ball Bearings: Full set
Pinion Gear:
Spur Gear:
Warranty: Two year limited beginning at date of purchase. Valid only
in USA, Canada and South America
INCLUDES
Preassembled Toyota FJ Cruiser Venture Crawler with Motor, ESC,
Radio System, Trimmed & Painted Body, NiMH Battery, Charger, four
AA Batteries, Instruction Mnual
REQUIREMENTS
Track and maintenance equipment
SPECIFICATIONS
Vehicle;
Length: 20.7" (527mm)
Width: 9" (227mm)
Height: 9.4" (238mm) with roof rack, 8.5" (217mm) without
Wheelbase: 12.3" (311mm)
Front Overhang: 3.9" (101mm)
Rear Overhang: 5.3" (135mm)
Running Weight: 5.3lbs (2.4kg)
Weight without Body: 4.7lbs (2.1kg)
Break-over angle: 44.5°
Approach Angle: 55°
Departure Angle: 45.5°
Max Climb Angle: 49°
Max Tilt Angle: 28°
Axle Articulation: 30°
Ground Clearance 2.7" (68mm)
Ground Clearance at Standard Ride Height: 2.4" (60mm)
Axle Ground Clearance: 1.3" (32mm)
Drivetrain Ratio: 7.6:1
Transmission Gearing: 1.53:1
Axle Gearing: 3.31:1
Transfer Case Gearing: 1.5:1
_________________

http://store.rc4wd.com/
http://www.rc4wdforum.com/forum.php
*RC4WD Bully 2 Hulksta Riddler Pro comp crawler
*RC4WD Gelande 1/18 rtr
*RC4WD TF2 Marlin Crawler
*RC4WD Beast II 6x6 rtr
*RC4WD Warhound custom
Gmade R1 kit 4ws - TFL Bronco - Axial scx10 truggy - 2x ECX Barrage - Traxxas trx4 Tactical
https://www.youtube.com/c/EtienneNoname0383
----------------------------
as far as my wife goes, it only cost $200 to build a scaler and $400 for a comp crawler
Sujets similaires
---
Permission de ce forum:
Vous
ne pouvez pas
répondre aux sujets dans ce forum